Fashion
Chanel is canvassing gender equality. Following the recent launch of the masculine-style Boyfriend, here is something that has gone full-throttle. After nearly two decades of pamperingwomen with fine watchmaking, the brand has decided to open shop for men with fine, Swisscraftsmanship. Monsieur de Chanel debuts as Chanel's first watch for men, after serving the ladies since 1987. The watch will test waters with a limited edition production of just 300 pieces – half in beige gold and half in white gold.

This was no impromptu plan. It was well-thought of, planned, strategized, and executed over a span of some six to seven years. In 2011, Chanel, in stealth from the prying eyes of the media, met up with Romain Gauthier – 'a highly-regarded independent Swiss watchmaker. The former acquired a stake in the latter. Then over a span of five years, a team of skilled craftsmen and designers under the supervision of Nicolas Beau, international watch director at Chanel, crafted the simple yet elegant Monsieur within the brand's assembly plant in La Chaux-de-Fonds in Switzerland.
The Calibre 1 timepiece is made up of 170 components and has a manual winding mechanical movement. While Gauthier custom-machined and decorated the components including gears, pinions, shafts, the balance wheel and the spring barrel's drum and lid; the gold case is a product from Châtelain, another Swiss gem which Chanel acquired in 1993. Will they be able to do it, or will they not? Time will tell.
READ: Chanel J12 Chromatic Diamonds Watch
It will be available from June 2, 2016. The beige gold will cost $48,500 and white gold Monsieur comes at $50,800.
Tag: CHANEL.man
Fashion
I
t's National Fragrance Day in the UK on Monday so what better way to celebrate than with a new scent to see you through spring. I'll be swapping my Balenciaga B, a green woody fragrance which I've been wearing since it launched back in the autumn last year, for a much lighter powdery scent like the new Narciso Eau de Parfum Poudree, which I absolutely adore. Here are some other new scents to get excited about:
1.Narciso Eau de Parfum Poudree
I came across this new fragrance at a recent press event. What I love about the smell is its delicate powdery quality. The perfume is built around a soft powdery musc in the heart which dries down to reveal a beautiful warm base of white jasmine petals, Bulgarian rose, vetiver, black and white cedars. I'm totally addicted.
2.Annick Goutal Rose Pompon
Annick Goutal teamed up with Philippine Courtiere to create Rose Pompon – a contemporary floral scent that updates the classic rose notes with a bold twist. The heart is made up of several roses, including rose pompon, Bulgarian rose essence, Taif rose and peony to leave you smelling like a giant bouquet of fresh flowers.
3.Diptyque Eau des Sens
I'm a huge fan of Diptyque and I like pretty much all their fragrances. This new one is composed by Olivier Pescheux and is based on bitter orange notes. It boasts a vibrant composition with unexpected combination of spicy and woody notes such as orange blossom, bitter orange, juniper berries, angelica and patchouli.
4.McQueen Parfum
The most anticipated perfume launch of the year – Sarah Burton has created her first fragrance for Alexander McQueen. Named simply as McQueen Parfum For Her, the scent is based around key notes of sambac jasmine, tuberose and ylang ylang and is paired with pink pepper, vetiver and clove. "I wanted this fragrance to come from night flowers, the kind that exudes an eternal freshness once the day is gone," explained Burton.
*And if you're in London, pop down to Selfridges and head to the Avery Perfume Gallery who are hosting a series of fragrance themed events to celebrate this day. The London department store and the recently opened Avery Perfume Gallery space located on the fourth floor will host a series of events on National Fragrance Day inviting shoppers to experience a scent journey and meet the brand founders from Agonist Parfums and Blood Concept.
Fashion
Do you ever sit back and think how lucky we are to have Jennifer Lopez? She sings, she dances, she acts, she shows up on near-constant red carpets looking incredible--what a bounty. Jennifer always has a bunch of projects in the works, which keeps a steady stream of paparazzi images coming, and lately, we've noticed even more than normal. Thankfully, she's always carrying a great bag for us to ogle as well.
We first took a look back at J-Lo's handbag style in 2012, but plenty has happened in the intervening four years. She uses more day bags now, and as you might have guessed, her Birkins are still getting a workout. As if anything else would be appropriate for Ms. Jennifer Lopez.
1 / 20
BARBARA BONNER GINGER FRINGE BAG
$744 VIA LUISAVIAROMA
For as done-up as J-Lo nearly always is, she does have her extremely casual moments, which she embraces with as much ardor as her fancy outfits.
2 / 20
CHANEL FLAP BAG
Why isn't the Internet as obsessed with Jennifer's hair color as it is with Khloé Kardashian's? Jennifer's had enviable ombré for years.
3 / 20
CHANEL PATENT CLASSIC FLAP BAG
Jennifer tends more toward seasonal Chanel pieces than the classics, but basically every celebrity has a Classic Flap in there somewhere.
4 / 20
CHANEL QUILTED FRINGE SHOULDER BAG
No matter which look Jennifer is going for at any given time, she always goes for it wholeheartedly.
5 / 20
CHRISTIAN LOUBOUTIN PALOMA BAG
$2,490 VIA SAKS
A rare all-black-everything look for La Lopez.
6 / 20
DSQUARED PYTHON TOP HANDLE BAG
SHOP DSQUARED VIA LUISAVIAROMA
Speaking of going all-in: in this pic, J-Lo was also wearing blue python pumps, in addition to her blue python dress and bag.
7 / 20
GIUSEPPE ZANOTTI SIGNATURE TOTE
$1,600 VIA FARFETCH.COM
"All in" would also be a diplomatic way to describe what's going on here.
8 / 20
HERMÈS BIRKIN
The way you can tell Jennifer is human is that she occasionally has a spot or two on her sweatpants, just like the rest of us.
9 / 20
HERMÈS CROCODILE BIRKIN
I like to think that Jennifer chose to go with double light denim because it sets off her Birkin so nicely.
10 / 20
HERMÈS BIRKIN
This photo is from sometimes in the last three years, which is not at all clear based on the outfit, which harkens back to prime J-Lo days.
11 / 20
HERMÈS BIRKIN
This is much more in line with prime current-era Jennifer Lopez.
12 / 20
HERMÈS BIRKIN
This photo should be the first thing that comes up when you google "late spring."
13 / 20
We're not sure who made this clutch; as always, a little help in the comments is appreciated.
14 / 20
ROGER VIVIER BOITE DE NUIT CLUTCH
$1,975 VIA NEIMAN MARCUS
I got to this photo, paused and immediately booked an appointment to get my gel nails filled after work tomorrow.
15 / 20
VALENTINO B-ROCKSTUD CRYSTAL SHOULDER BAG
$2,895 VIA MATCHESFASHION.COM
You can go back and check; Jennifer's nails are always perfect. She must get a fill once a week.
16 / 20
VALENTINO MY ROCKSTUD TOTE
$3,595 VIA FARFETCH.COM
In the past few months, Jennifer has transitioned to an almost exclusively Valentino existence.
17 / 20
VALENTINO MY ROCKSTUD BAG
$2,995 VIA SAKS
This bag isn't nearly as much as a Birkin, so why not have it in multiples?
18 / 20
VALENTINO MY ROCKSTUD BAG
$2,995 VIA SAKS
I mean, gotta have one to match the baby blue coat, right?
19 / 20
VALENTINO VAVAVOOM LEOPARD BAG
$2,245 VIA NET-A-PORTER
J-Lo's Valentino love isn't brand new, though; she's had a couple of the brand's bags in her closet for a while.
20 / 20
VALENTINO VAVAVOOM BAG
$2,245 VIA NET-A-PORTER
This is the first and only time I've seen Jennifer in glasses and I am smitten. I love celebs in glasses. (I wear glasses, so I might be biased.)
Fashion
After tackling the fall 2016 shows in New York, London and Milanand Paris, we've kept the fashion train rolling all the way through to Moscow, where the 32nd season of Mercedes-Benz Fashion Week Russia(MBFWR) took place this week and wrapped up on Tuesday.
Read on for the looks that caught our attention on the final day of shows, and check out our favorites from Monday and over the weekend.
VIVA VOX
Designer Oleg Evseev's collection was a crowd-pleaser, especially among the international press watching the shows with me. And while it wasn't my favorite of the day, it was original and very well constructed. My top look was one of a series that featured a voluminous, knee- or ankle-length coat over a flowy, delicate dress. As the models moved quickly down the white, reflective runway, the concentrated movement of the sheer fabric gave the effect of a smoke cloud around their feet.
IVKA
Ivka designer Anastasia Gassi is a Central Saint Martins graduate who started her career as an abstract expressionist painter. You can feel that influence in the oversized shapes and unfinished edges of her latest collection. It felt perfect for the confident but jaded city girl who likes to stick to a uniform. This green skirt stood out among the mostly monochromatic looks without feeling too obvious or too heavy from the leather.
SALLE DE MODE
Georgian designer Salome Amanatishvili imbued futuristic, science fiction vibes into her latest collection of primarily head-to-toe black looks. The combination of this edgy, leather, harness-like top and and pleated sheer skirt was memorable for its wearability and power — like what a bartender on Tatooine might go for.
IGOR GULYAEV
Gulyaev is a tentpole designer of the week, drawing huge celebrities names including pop star Yegor Krid (who I didn't recognize but who drew enough selfie-seeking admirers to tip me off). Gulyaev presented a long, varied collection of mens-, womens- and childrenswear pieces that felt more stereotypically Russian than other designers' work, mainly because of his focus on fur. This long, green, suede coat was my favorite of the bunch: a modern interpretation of a traditional silhouette.
Fashion
Hemlines. Sometimes they go up. Sometimes they go down. And sometimes they just die. In denim news, they are currently dead, or at least non-existent, let-down, released or "feral". Working in tandem with Wednesday's UK budget and the Hemline Index, which states that economic prosperity equals shorter hems, what does the mercurial no-hem-hemline mean? Insecurity? Uncertainty of funding? Or, as David Cameron told the cabinet more optimistically, "transformation"?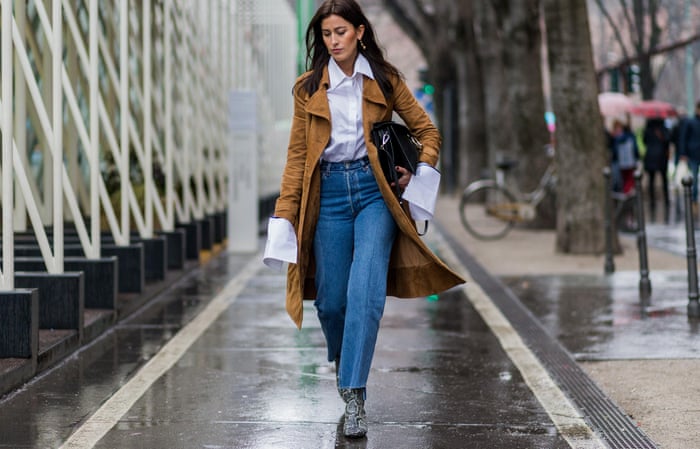 The Hemline Index theory has long been dismissed by economists and fashion, so any link is probably happy coincidence. The no-hem hemline look was a key proponent in grunge in the 1990s, yet we started the decade in deep recession with mass unemployment.
In recent fashion, frayed hems took their leave around five years ago, via Marques Almeida. Their excessively frayed pieces would become a signature look season upon season through Tabard-style tops, jeans, dresses and skirts all finished with a raw edge. Last autumn, Justin Bieber wore MA on stage. This spring, at the shows, it was the only acceptable jean finish in street style. And now, aside from Marques Almeida, it's gone mass: at Stella McCartney, Rachel Comey, Topshop and in the pages of The Gentlewoman on model Sam Rollinson.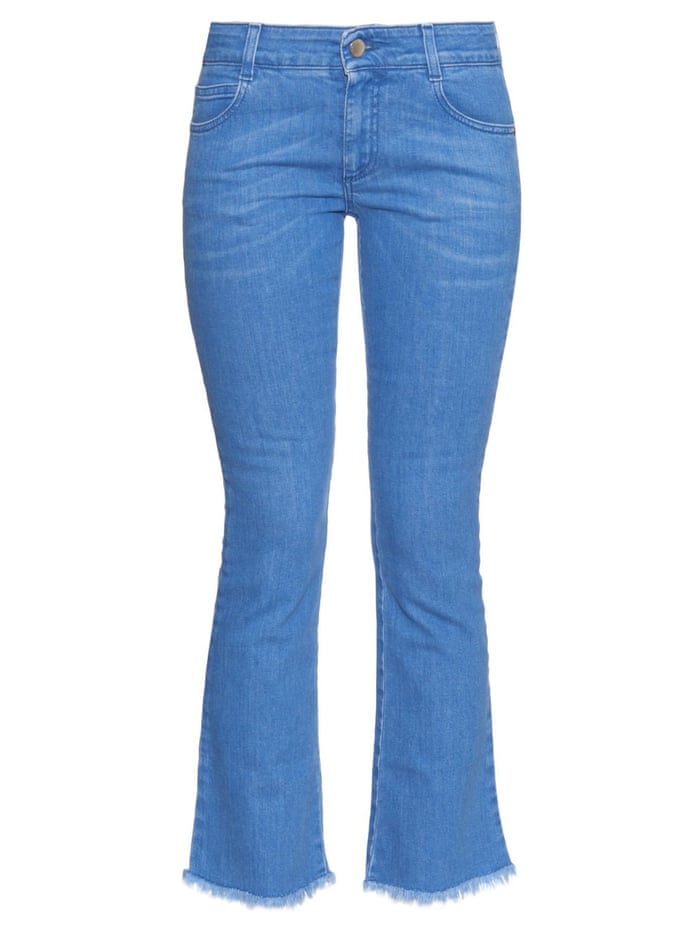 This deconstructed, released-hem look, as Donna Ida Thornton, founder of denim boutique Donna Ida, describes them, could well be born out of a need to personalise jeans, which are back at the frontline of style. "S16 is all about true-blue denim and directional separates, which are heavily influenced by the 60s and 70s, so frayed hems," she says. "We have seen an increase in customisation with fraying, patches, rips and released hems."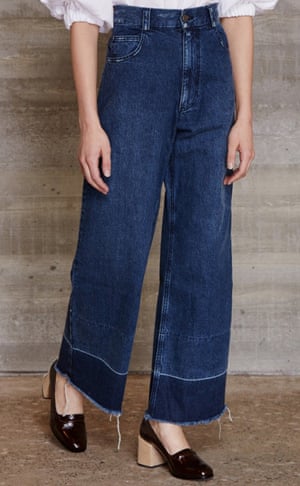 They are pleasingly easy to pull off, too (not least because, if you do it yourself, you can pick your length). Guardian stylist Melanie Wilkinson says: "Aim to cut your jeans about an inch above your ankle – this way, if you're wearing heels sans socks you'll see just the right amount of skin, and with ankle boots they'll sit perfectly just below the rim of the boot." Thornton suggests wearing them with a heel: "I like the contrast of the rough denim with a classic Manolo Blahnik court."
Forking out for an expensive pair of pre-distressed jeans isn't necessarily the best investment, of course, but the good news is that it's easy to DIY. Thornton says the high-rise Margot Culotte is its best-selling shape and one that lends itself well to de-hemming, but really anything goes.
Melanie Wilkinson, who customised these Lee jeans, explains how: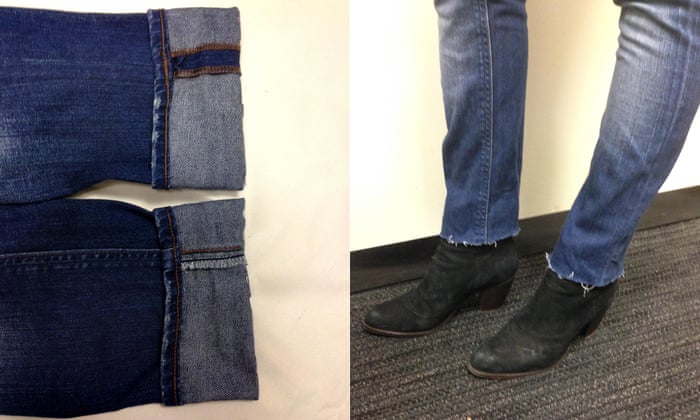 1. Turn your jeans up on the outside to the length you're after (I'd recommend putting them on and doing this with the help of a mirror or a friend) and pin along the crease.
2. Fold the turnups down, and use the pins as a guide to cut along.
3. Fray with your fingers as much or as little as you like.
Fashion
For the second installment of KITH's Year V Spring I collection, the New York-based brand releases a commemorative trio of Madison Jackets. Each jacket channels a major moment in the brand's history, as colorways were inspired by three important releases across KITH's five year lifespan: Volcano, Salmon Toe and City Never Sleeps.
The Madison Jacket was first seen as part of the Volcano collection back in October 2013. Unfortunately, those jackets were never widely released, leaving customers empty-handed. Fortunately, KITH created a premium execution of the formula and is now offering those original customers the opportunity to pre-buy any of these limited jackets, with only 200 produced of each.
In addition, customers who purchased the respective sneaker that inspired each colorway will also be extended a pre-buy opportunity. Those customers can expect an email sometime today to purchase these jackets before their full public launch on Friday, March 18 at 11 a.m. EST at KITH Manhattan and KITH Brooklyn, (if there's any stock remaining).
Categories

New Posts

Hot Posts